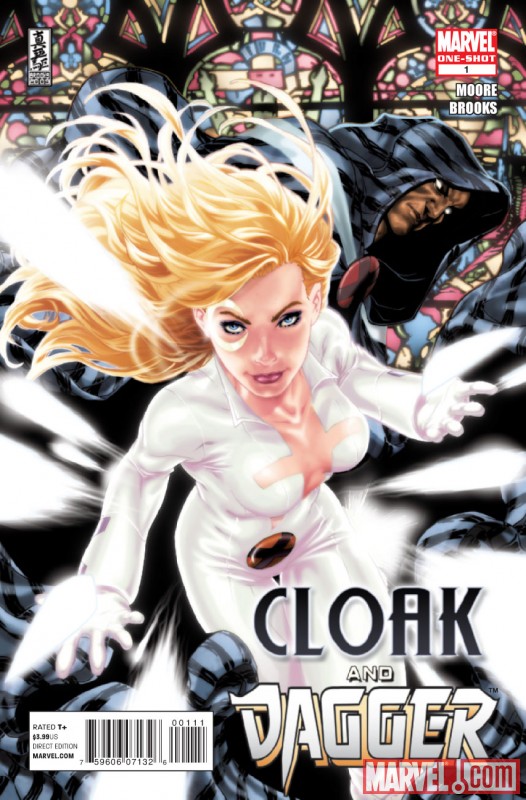 I'd like to personally thank writer Stuart Moore for bringing my favorite comic book couple back into a title of their own, if only for a one-shot. Cloak and Dagger are among the founders of my comic book fanaticism; when my father brought home a box of abandoned comics from his moving job here in Mesa, Arizona almost twenty years ago, I was swept away.
Strange Tales
, volume two, was among those ragtag issues, starring Cloak and Dagger, two runaways whose latent mutant abilities were triggered by experimental drugs. A big part of their appeal is that original Peter Parker factor, when Stan Lee set up Spider-man as a character his readers' age, facing similar problems. From an ailing aunt to streetwise drug dealers, sure, times have changed, but the viability is still there.
In this issue, on the heels of the latest X-titles crossover, Cloak and Dagger apparently aren't mutants, after all -- just victims, now still looking for their place in the world. Moore (with artist Mark Brooks' help) does a great job making the characters current while retaining the awkwardness of their humble beginnings: Tandy's overwhelming beauty, Ty's insecurity and speech impediment. Just as these traits strengthen their dynamic, it makes them vulnerable, as Cloak nearly succumbs to an anti-mutant group attempting to psychologically suppress his powers. Dagger saves the day, which, in a twist from their original script, makes her the codependent one -- and consequently, us readers, as well.
This issue would be a great launching pad for a series, if Cloak and Dagger retail that social relevance with which they were originally conceived. After all, what is adolescence if not one's search for identity in the world, one's retreat from cloak and dagger subterfuge into things like a box of discarded comics left at the end of your bed?